Development and Production
Our team advises, problem solves and develops fit-for-purpose solutions for a wide range of industries. Projects include the development and production of aluminium automotive parts, shop fittings, lighting and display products, office partition systems, furniture and fittings.
We accept drawings and specifications in PDF, AutoCAD, DWG and paper formats. As each project is tailored to your requirements, we are keen to learn about the application. If we see an opportunity to improve the design, value engineer or increase manufacturing efficiency, we will advise throughout the process. Our experienced team are proficient problem solvers, so we can help overcome many design issues.
Sustainable Production
Aluminium is a sustainable product renowned for its ability to be recycled. The vast majority of commercial aluminium waste is collected and reused, time and again, without compromising its strength or aesthetic qualities, approximately 75% of all aluminium manufactured to date is still in circulation in 1 form or another.
The powder coating finish that we apply to many aluminium parts is solvent-free, far safer than wet spraying and giving a more durable finish, suitable for both architectural requirements & automotive products alike.
Our dedicated powder coating facility collects, recycles and reuses water. Our investment in this system has cut our water usage by approximately 54% in the last 5 years, saving around 4000m³ per year.
Not only have we taken action to recycle aluminium. Over 14,000Kg (approximately 94%) of all waste products including cardboard, timber, plastic and paper have been recycled by Salesmade in the last 12 months (up to May 2021) crucially avoiding landfill.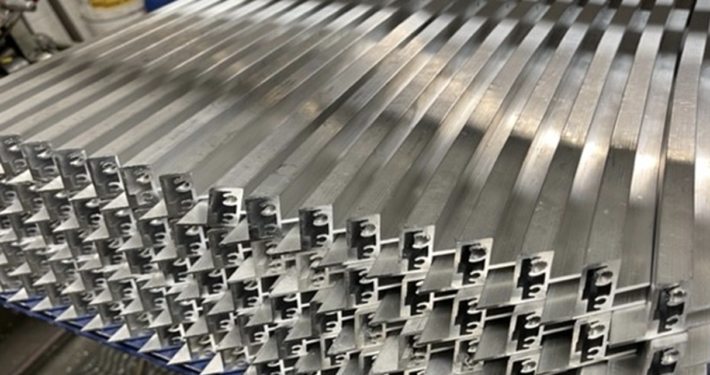 We fabricated aluminium component, providing a perfect fit that fulfilled the quality expectations of a vehicle manufacturer.